UPDATE OPIOID CRISIS:
MORE EVIDENCE THAT BUPRENORPHINE AND METHADONE OPIOID SUBSTITUTION TREATMENT (OST) IS WORSENING LETHAL EPIDEMICS – ARIZONA, U.S.
by Clark Miller
Published April 17, 2019
Updated April 12, 2021
The false promise of medication assisted treatment (MAT) as implemented is increasingly exposed by critical evaluation of diverse lines of evidence and research from U.S. MAT outcomes and from France's decades-long, least restrictive, most intensive opioid substitute treatment (OST) campaign in the world, held out as the model for a U.S. medical "fix" with substitute opioids.
As established for the lethal iatrogenic opioid crisis the fix is a response to, the research "evidence" was never credibly supportive and predictive of benefit, instead predictive of a mounting body of evidence of failed outcomes and steadily worsening lethal public health epidemics associated with population "dose" of the medical cure increasing substantially and steadily in the U.S. and model country France. That research – vetted by the same expert professional class responsible for ensuring a research evidence base for the medically appropriate, safe, effective use of addictive opioids for the non-medical condition of common chronic pain – was never subjected to competent critical analysis of research design, interpretation and validity, never subjected to a critical discourse, instead successfully endorsed by popularizing writers in mass media.
That mounting evidence has included –
Retention rates (patients staying in and successfully completing MAT treatment programs) low and trending to zero in natural community treatment settings, with concurrent misuse of other opioids, other drugs – described in this post:
Doxa Deconstructed: Another Medical Fix Not Supported by Evidence – Suboxone for the Opioid Crisis
Evidence in the anomalous case of Plumas County, California reversing opioid-related OD deaths pointing to Naloxone as the effective protective factor and against OST – described in this post:
In a California county hard-hit by opioid abuse, reduced death rate points to OD reversal drug naloxone, not opioid substitute Suboxone
Consistent evidence – as the national "dose" of substitute opioid medical "fix" and "anti-addiction drug" buprenorphine has steadily and substantially increased – of a concurrently worsening, lethal epidemic – outlined in this post:
More Signs U.S. Medical Industry Magic Pill Approach to Opioid Crisis on Same Track as Decades-Old Failed French Experiment of Unrestricted Buprenorphine Prescriptions in Primary Care
Rampant, runaway diversion and abuse of the prescribed, addictive substitute opioids in France and the U.S., enough in France to fuel buprenorphine abuse epidemics in another country – described in this post:
The French Connection France's Decades-Long Unrestricted Buprenorphine (Substitute Opioid) Campaign – Promoted as the "Fix" for U.S. Opioid Crisis – is Fueling Widespread Prescribed Opioid Diversion, Trade and Abuse
Lack of evidence to support the claim of efficacy for MAT/OST in reducing OD deaths or for other benefit, instead evidence for diverse harms – described in this post:
Following French Failure, Americans Get a Substitute Addictive Opioid as "Fix" for the Opioid Crisis, Marketed as Reducing Overdose Deaths Does It?
OST falsely constructed, branded as "treatment" thereby diverting public resources, attention, and policy away from existing evidence-based treatments for problem substance use including opioid use – described in this upcoming post:
Opioid Epidemic: For Worsening Crisis French and U.S. Medical Systems Dispense Ongoing Addictive, Abused Substitute Opioids With No Evidence-Based Treatments, Predictable Outcomes
Evidence falsifying and dismantling claims by the medical/harm-reduction industry that diverted substitute opioids are primarily or largely used in self-treatment by individuals motivated to stop high-risk opioid use, instead affirming misuse and abuse of diverted prescription opioids – described in this post:
Update, Opioid Crisis – Word from the Street: The Bupe Economy is About Abuse not Self-Treatment
But that evidence has never existed . . . use of naloxone has increased concurrently with provision of OST. Studies have not been controlled to allow attribution of any reduced opioid-related mortality to OST versus use of naloxone – the potential exposure to naloxone intervention generally reported to be and predicted to be positively associated (correlated) with patient involvement in OST services and associated medical and psychosocial supports.
BELOW:
In Arizona, U.S. new mounting evidence: disconfirming prediction of benefit from increasing substitute buprenorphine and methadone medical "fix" for the opioid crisis – indicators of high-risk opioid use (non-fatal opioid overdose) rise significantly in response to medical "treatment" while OD deaths decrease in response to a naloxone campaign.
Discussed in recent posts, one of multiple lines of evidence consistently invalidating benefit from OST – drug injection-related infectious endocarditis as a measure of high risk opioid use – has increased in Canada and in Ohio associated with increasing population provision of doses of the OST medical fix.
That's the opposite of predicted if OST by provision of methadone and bupe were providing benefit by reducing high-risk opioid use.
First, from a recent post on disconfirming results in Franklin County, Ohio –
6,688 opioid-related emergency department visits in the province,
up from 5,909 during the same time frame last year
An increase from 2017 to 2018 in a measure of high-risk opioid use-related ED visits  – of 13%
That's important, because
as explained in detail in this post and here, evidence for benefit from the medical/pharmaceutical industry medical fix for the medical/pharmaceutical industry-generated lethal opioid crisis requires an explanatory mechanism. Unlike the beneficial lethality-preventing effects of naloxone – observed and counted directly in emergency or medical settings when a user at risk of overdose death is revived by use of naloxone (Narcan), any presumed role of OST in reducing OD deaths or providing other benefit must be achieved, measured, and statistically significant (in credibly designed and interpreted research with durable results and external validity) as reducing high-risk opioid use – that's how any hypothesized benefit would occur.
But that evidence has never existed. For a number of invalidating reasons. One primary reason is that use of naloxone has increased concurrently with provision of OST. Studies have not been controlled to allow attribution of any reduced opioid-related mortality to OST versus use of naloxone – the potential exposure to naloxone intervention generally reported to be and predicted to be positively associated (correlated) with patient involvement in OST services and associated medical and psychosocial supports.
Another of multiple invalidating factors is the consistently emerging evidence: national data, data from community programs, associated timelines, and OD death prevention data all point coherently to naloxone acting as the protective factor accounting for any apparent reductions in OD deaths, measured directly, leaving no changes for the hypothesized effects of OST to account for.
In Arizona, U.S. –
We are in a multi-wave opioid epidemic: the prescription wave and associated deaths, the heroin wave and associated deaths, and now the fentanyl or synthetic wave of opioids," said James Hodge, a law professor at Arizona State University.
Those involved in outreach to drug users in Arizona say they are finding fentanyl in all kinds of drugs — from meth to cocaine to heroin.
Now the pace of overdoses in Arizona appears to be accelerating.
Overdoses reached an all-time high in January — with about 600 more overdoses reported in that month than in September, according to preliminary state data provided to KJZZ News.
Dr. Cara Christ, director of the Arizona Department of Health Services, says they are still looking into what is driving the recent spike in non-fatal overdoses.
"The department is looking at this data. While our overdoses have gone up, the reported deaths have remained relatively steady, so that is a positive trend," she said.
Christ cites the effort in Arizona to widely distribute the overdose reversal drug Naloxone as one possible reason that the death toll has not climbed significantly.
Dr. Crist is on to something.
There is no body of studies that control for, that is allow differentiation of and assignment of causative effects to, presumed beneficial effects due to OST versus concurrent increases in availability and use of the OD-reversing drug naloxone. That would be almost impossible to control for in any type of study, or in any case be unethical. Community and national programs to increase availability and use of naloxone have developed concurrently with development and/or expansion of OST programs – leaving longitudinal studies confounded by at least two uncontrolled effects. Clearly it would be unethical to block access to the life-saving OD-reversing drug in any type of designed study.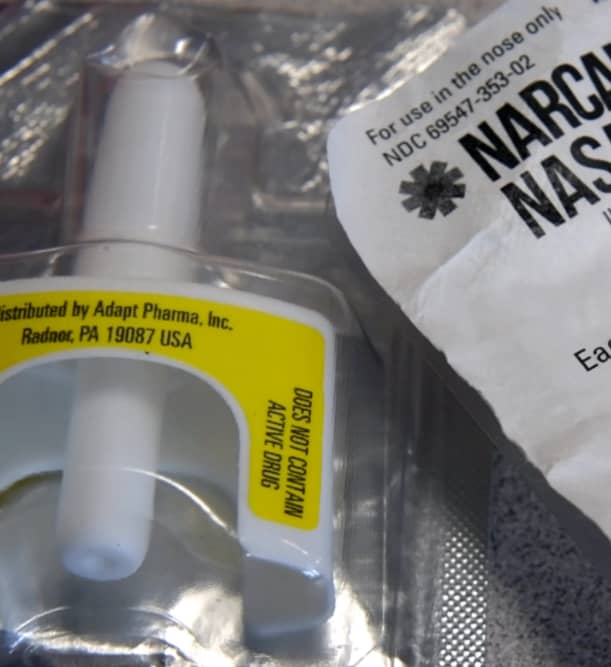 In studies that measure mortality, for example, post-prison release, there are uncontrolled confounding factors that preclude attributing benefit – as measured by lower incidence of mortality – to the single factor of use of buprenorphine, or use of methadone:
In studies that are not randomized, subjects volunteering for OST versus those who decline, would be more motivated not only to use the medication, but also to access additional supports and services, some of them evidence-based – psychotherapy; housing support; employment support; social services; other.
Subjects accessing regular medical-setting visits as part of receiving a substitute opioid would necessarily more likely be offered and provided (confounding) protective supports and services especially OD-reversing naloxone kits and instructions on how to use them – for themselves and significant others. Naloxone, from consistent evidence, accounting directly for all apparent reductions in OD deaths in epidemiological trends.
While our overdoses have gone up, the reported deaths have remained relatively steady, so that is a positive trend," she said.
Christ cites the effort in Arizona to widely distribute the overdose reversal drug Naloxone as one possible reason that the death toll has not climbed significantly.
As detailed in a series of posts – documented instances of use of naloxone, nationally and locally, can account for any apparent decreases in OD deaths directly, leaving no reductions for OST to account for.
To attribute positive effect (reduced opioid-related OD deaths, morbidity) to OST requires evidence of reduction in high-risk opioid use linked to patient engagement in OST – that is the mechanism by which OST could provide benefit and is required to attribute any such benefit.
Let's think critically for a moment. Reduced opioid-related OD deaths could be due to revival by naloxone, engagement in OST, other psychosocial protective factors. But the evidence consistently points to naloxone as accounting for any apparent decreases. As directly observable and recorded.
What about reduced high-risk use – required to attribute benefit to OST?
Consistently the evidence disconfirms reductions in high-risk opioid use due to OST, instead points to worsening of high-risk use associated with increasing provision of the medical fix for example here, here, here, and here.
– Increased as provision of the medical fix for America's lethal opioid crisis expanded significantly
Arizona was granted $24 million dollars for opioid treatment and prevention from the SAMHSA State Targeted Response (STR) Grant, the funds implemented for OST programming in October of 2017. Immediately, those and state funds were used to quickly expand access to bupe and methadone, at clinics open all hours, seven days a week, 24/7, and with new clinics with the same expanded hours.
But according to this state report other services prior to the expansion of dispersal of substitute opioids – a campaign focused on expanding availability and use of the OD death-reversing drug naloxone – began earlier, by June of 2017. It included widespread training of law enforcement personnel, provision of naloxone kits, and increased availability of naloxone to responders as well as private citizens.
ADHS identified a need to train local law enforcement agencies on proper protocols for carrying, handling, and administering naloxone in overdose situations, in order to positively impact the opioid epidemic through rapid treatment of encountered suspected overdoses. Approximately 1,000 law enforcement officers have been educated through training events held throughout the state. Professionals from 153 agencies have been trained on opioid overdose recognition and treatment, and naloxone administration through May 31, 2018. ADHS is coordinating continuing requests for law enforcement training with the Arizona Peace Officer Standards and Training Board (AZ-POST).
Progress on naloxone distribution includes: • ADHS has free naloxone kits available for law enforcement agencies and first responders who are unable to bill for naloxone. Agencies can request naloxone by completing the request form on the ADHS website. • ADHS has provided 6,316 naloxone kits for 63 law enforcement agencies since June 2017. • 86% of people experiencing non-fatal overdoses since June 15, 2017 when enhanced surveillance was initiated received naloxone pre-hospital. • Law enforcement officers have administered naloxone 549 times to 405 people since June. In all but 9 cases, the individual survived the immediate out-of-hospital event.
. . .
In order to support increased use of naloxone to save lives in Arizona, ADHS Director Dr. Cara Christ signed standing orders that allow pharmacists to dispense naloxone to any individual in the state and allow ancillary law enforcement, correctional officers, and EMS to use naloxone for suspected opioid overdoses. A naloxone pamphlet was developed in both English and Spanish to assist in public education of opioid safety and naloxone use.
USA TODAY Network's azcentral took a close-up look at the rapid expansion of hours and facilities run by the for-profit Community Medical Services dispensing methadone and suboxone beginning October 2017:

But how the treatment program has worked in Arizona, actually, is to have predictably – based on longstanding evidence bearing on OST – increased instead of decreased high-risk opioid use as clearly illustrated by a measure of high risk use: non-lethal opioid-related overdoses – non-lethal overdoses to factor out confounding effects of changes in use of naloxone to prevent OD deaths.
Let's look at the timeline and epidemiology.
For both non-lethal and lethal opioid-related overdose prevalence, the numbers decrease after the naloxone campaign is implemented, and prior to OST expansion, through October 2017 – that's when rapid increase in provision of substitute opioids buprenorphine and methadone was initiated.
Then things change. For non-fatal overdoses – a measure of high-risk opioid use – prevalence then shows a steady increase through January of this year, over a period of 13 months.
For lethal opioid overdoses, the picture not much less clear – an increase in deaths over the three months following initial expansion of OST, then highly variable mortality over the following 12 months, with no evident overall decrease in opioid-related overdose deaths over the period following OST expansion.
Surprised ?
Here, as described by Sam Quinone's in Dreamland (p 190), is what happened with expansion of medically-provided methadone about two decades ago –
Generic methadone, for years strictly an addict-maintenance drug, suddenly started killing, too. As media reports of OxyContin abuse and overdoses spread, some doctors began prescribing methadone for pain instead. . . some doctors figured that methadone was an equally long-lasting painkiller. Plus methadone was generic and cheap; insurance companies covered it. Methadone prescriptions more than quadrupled – from under a million in 1999 to 4.4 million in in 2009 nationwide – mostly for headaches and bodily pain.
. . .
As methadone prescriptions rose, so did overdose deaths involving methadone – from 623 in 1999 to 4,706 in 2007.
As documented by Quinones and others, the writing has been on the wall pointing to the lethality of medically-provided methadone, for decades. 
Here, another locale where methadone provision, by medical professionals providing America's fix for the medically-generated opioid crisis, is currency and commodity in a street economy of illicit, increasingly lethal abuse. 
The area of Methadone Mile, or as the City calls it "Mass & Cass" in attempts to downplay the stigma, is a bustling open-air drug market, seemingly immune to social distancing, masks, and even common laws.
Daily, Boston EMS can been seen responding to calls for overdoses, "man-down", cardiac arrests and other calls of that nature related to the area "residents" drug use and homeless lifestyle. Additional staffing had become a necessity due to the high call volume causing the department to dedicate a fly car, known as Squad 80, to the area. Recently Boston Fire also added new rapid response vehicles. The Medical Response Area pilot program added "Delta 21", a car staffed with two first responders/recovery coaches that responds to certain incident calls in the Mass & Cass area three days a week.
Why those results were predictable –
Explained in detail in this companion post.
The escalating high-risk opioid use in Arizona is another example in a pattern – of failure and harm, of a lethal national epidemic of illness and death worsening as population dose of the medical cure, the medical "treatment" increases.
It should be a sign, a lesson.
It should by now be an indictment.