MORE EVIDENCE POINTING TO VAPING BY YOUTH WORSENING NOT PREVENTATIVE FOR CIGARETTE SMOKING
Mass and social media false portrayals of e-cigarettes as protective against cigarette smoking predict increased illness and deaths
by Clark Miller
Published September 3, 2021
What can be sorted out about the authoritative claims for harm reduction versus concerns raised for runaway rates of vaping among young people?
Here's what the CDC is saying, as of April of this year, 2021 –
If effective prevention and public health response to compulsive use of substances and associated epidemics were all about health risks and making them known, the world would be a very different place.
We also know that the conformity-driven force of groupthink, amplified in new, unprecedented ways by social media, can manufacture "knowledge" by consensus rather than evidence in ways that are shifting, not to overdo it, but . . . shifting reality.
And we know, as has been established, that just as in generation of the avoidable opioid crisis, American corporate media in collusion with medical industries, public healthcare institutions, and an army of useful idiots constructed (by, right, mass media) as medical and public health "authorities" and "experts" can be counted on to evidence pathological levels of diminished capacity for integrity, obligation to the public good, research literacy and critical thought in cooperative fabrication of the lies needed to preserve status, social capital, and power.
From an earlier, related post –
Grossly incompetent media reporting on research related to public health crises continues to expose vulnerable Americans to potentially lethal misinformation. Despite mounting mortality, public health, and social costs, there is no evidence of accountability, correction, or adaptive use of the overt failure of media watchdog and evaluative roles that helped fuel the lethal opioid crisis – a collaboration, as exposed here, in reporting by Sam Quinones in "Dreamland", of medical, academic, research, and media institutions to market fabrications driving prescription of addictive opioids for common chronic pain, a non-medical condition, without evidence supporting effectiveness or safety.
Nothing has changed. In a recent egregious example, writers at Vox, the New York Times, other outlets in ignorance of the most basic of research interpretation errors promoted entirely unsupported conclusions promoting false confidence in effectiveness of use of electronic cigarettes or nicotine replacement therapy (NRT) products as treatments for the highly lethal condition of compulsive use of tobacco by smoking. 
Here's the authoritative, confident account by the New York Times on the harm reduction benefits of use of electronic cigarettes ("vaping") –
"an unequivocal answer: yes"
As heralded in the NY Times, "Do e-cigarettes actually help smokers quit? Now, the first, large rigorous assessment offers an unequivocal answer: yes.", asserting that smokers can expect cessation success rates by use of NRT and e-cigs of "18 percent among the e-cigarette group, compared to 9.9 percent among those using traditional nicotine replacement therapy"
This "seminal" study, widely popularized and celebrated as significant, published in the very medical journal with the key role in normalizing the fabrications generating the lethal opioid crisis, heralded in the NYTimes as establishing an "unequivocal answer: yes" to the question of whether "e-cigarettes actually help smokers quit?" – in fact on evaluation points to a clear lack of evidence supporting effectiveness, the celebratory headlines and media accounts providing medical misinformation to millions of compulsive users of tobacco, a condition with high risk of illness and death.
It is critically important to note that dismantling the fabricated and unsupported conclusions attributing smoking cessation benefit to both NRT and e-cigarettes did not involve a sophisticated analysis of statistical design or other features of the study, instead simply noting the obvious invalidating violations of the most basic and elementary principles of experimental design and interpretation:
– Lack of a control group
– "Treatment" groups that were not meaningful or useful for the hypotheses meant to be evaluated
– Lack of external validity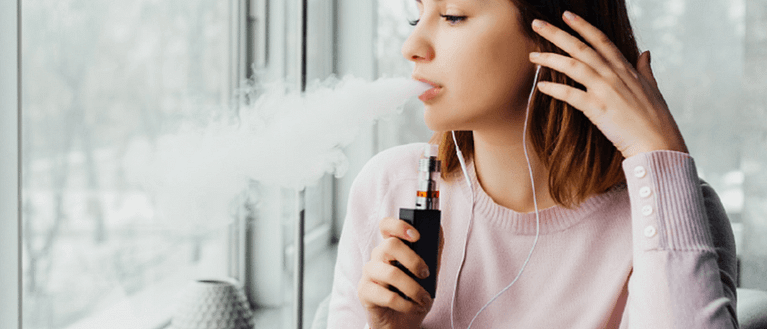 Vaping Lures Teens to Smoking: Study
TUESDAY, Nov. 10, 2020 (HealthDay News) — Instead of being a safe alternative to smoking, vaping may serve as an enticing gateway to the cigarette habit for some teens, new research shows.
It's known that teens who use electronic cigarettes are more likely than their peers to take up the real thing. But the question of cause-and-effect has remained: Perhaps those same kids might have started smoking anyway?
But the new study casts doubt on that idea.
Researchers found that among teens who said they had no intention to ever smoke, those who vaped were more than four times more likely to eventually try cigarettes.
That, experts said, suggests that e-cigarettes can predispose kids to tobacco use — possibly by fueling a craving for nicotine.
"It suggests they're basically graduating to cigarettes, which is what everyone is afraid of," said Dr. Cedric "Jamie" Rutland, a pulmonologist who was not involved in the study. "They had no intention to smoke, and then a couple years later they were."
The study was published online Nov. 9 in Pediatrics. It included more than 8,660 U.S. adolescents ages 12 to 17 who were surveyed between 2014 and 2016. Initially, just under 13% said they intended to start smoking, and 8.5% had ever vaped.
By the next survey, those e-cigarette users were more likely to have tried cigarettes — but only if they'd previously had no plans to start smoking.
Among kids with no intention to smoke traditional cigarettes, almost 10% of e-cigarette users went on to try cigarettes, versus about 2% of other teens. That contrasted with their peers who had planned to start smoking. E-cigarette use made no difference in whether they eventually tried cigarettes.
The study could not look at whether vaping got some kids hooked on nicotine, Owotomo said — but that is a possibility.
Youth use of traditional cigarettes rises in 2020; e-cigarette use drops slightly
The 2020 Monitoring the Future study, released this week by the University of Michigan, found that 12th-graders' consumption of traditional cigarettes increased from a record low of 5.7% in 2019 to 7.5%.
MORE: at A Critical Discourse
Watch for new posts on vaping among youth and adults at risk of starting or increasing use of tobacco cigarettes and of nicotine dependence and associated health costs.
Click on Join below to sign up for new posts alerts by email.